Anti Ragging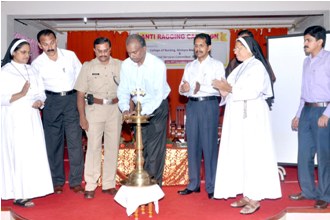 The anti-ragging campaign is inaugurated by Mr. Emmanuel. P. Kolady, Honorable Addl. Dist. Judge. Principal Sr.Merly, PRO Mr. Alexander Koshy, DySP Mr.Tomy Sebastian, Adv. Johny Methippara, TLSC Secretary Mr. Nazar K.B, Administrator Sr.Joviet , Social Worker Mr. Neethin Joseph Joy are seen
In case of emergency, the following persons can be contacted:
1. Sr. Merly, Principal :
+919495515764
2. Sr. Deepthy, Asst. Professor :
+919995772627
3. Sri. M. J. Mathew (DySP Rtd.) Chief Public Relation Officer
+919447225222:
4. Mr. Neethin Joseph Joy, MSW, M.Phil, PGDMLE Senior Social Worker
+919446717758:
Formation of Anti ragging Committee
As per the directions of Supreme Court of India, UGC, and the Kerala University of Health Sciences, the College of Nursing, Nirmala Medical Centre, Muvattupuzha has formed the following Anti-ragging committee and Squad. The college governing body meeting held on 16th September 2011 approved the list of ANTI RAGGING committee members.


ANTI RAGGING committee members.
1 Sr. Joviet, Administrator, College of Nursing, Nirmala Medical Centre, Muvattupuzha : Chairperson
2. Sr. Merly, Principal : Member Secretary
3. Sr. Deepthy, Asst. Professor : Faculty Member
4. Ms. Jisha Varghese : Faculty Member
5. Sri. Alexander Koshy, (DySP Rtd) : P.R.O
6. Village officer, Muvattupuzha : Representative of Civil Administration
7. Sub Inspector of Police, Muvattupuzha : Representative of Police Administration
8. Sri. Rajesh Randar, Deepika, Muvattupuzha : Media Representative
9. Sr. Kripa : Hostel Warden
10. Sri. Siddik A.T : Parent Representative
11. Sri. George C.V : Parent Representative
12. Ms. Vandana Joseph, 1st Year P.B.B.Sc.(N) : Student representative
13. Ms. Amala George, 1st Year B.Sc. (N) : Student representative